Learning how to design a waiting room for a medical or dental office starts with intuitive decisions that improve your client's overall experience. Waiting room design is integral to managing client inflow and outflow. Your goal is to consider your client's needs while aiming for efficiency. Check out these office waiting room ideas to capitalize on your owned or rented space: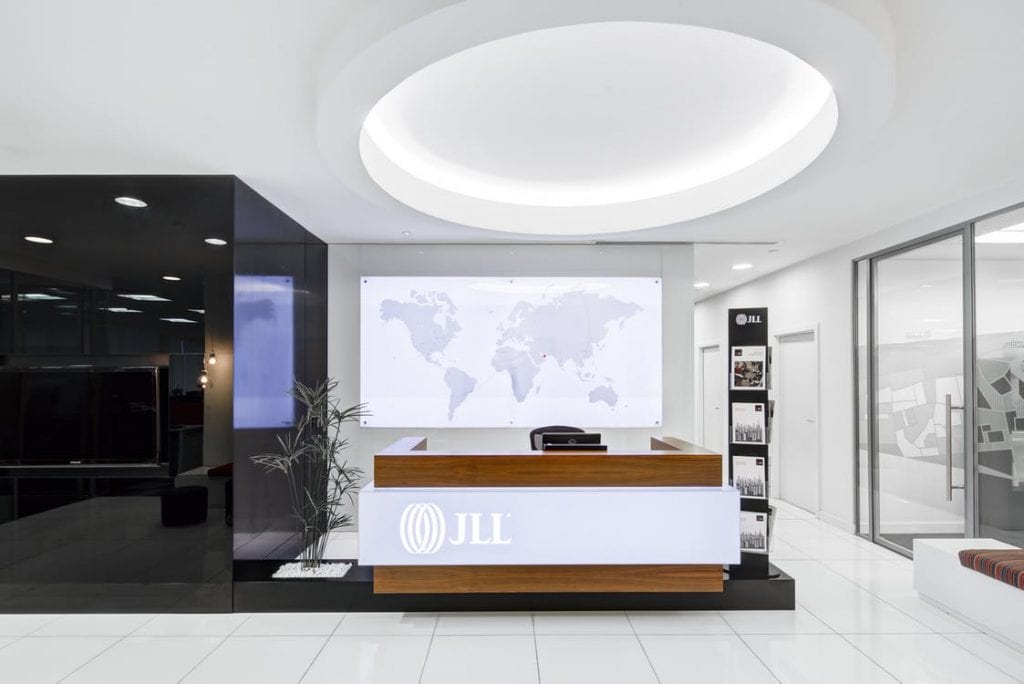 Plan Client Traffic Flow

Have a clear idea of traffic flow when designing your office build out.

This is a key component of learning how to design a waiting room. Know how your guests will enter and exit your space and make sure these areas are clearly marked and easily navigable. In terms of client experience, there's nothing worse than showing up for an appointment and having no idea where to sign in, register, or begin the appointment. These measures can also help cut down on client wait time, especially if you're looking for space to be freed up in a small waiting room. Ideas like this will help keep clients coming and going smoothly.

Signage that points people toward restrooms or other critical areas are important too.

You want to make sure the foot traffic can flow freely around the waiting area. The last thing you need is a traffic bottleneck. If you have a practice that requires patient anonymity and privacy, you'll also need to create one-way pathways to keep clients from crossing paths.

Direct Attention and Traffic Toward the Reception Desk

Your reception desk is the first thing your clients see when they walk into your office.

Think carefully on how you integrate this into your build. This is the focal point of your office waiting area. Spend some time thinking seriously about what your needs are and how they will fit with design.

Base your immediate considerations around functional and technological needs.

Ask your receptionist and clients about how you can improve their experience. Simple considerations, like lighting, electrical, phone, printer, copier and internet access are all important. Many of these items take up physical space. Plan your furniture and floor plan accordingly.

Your reception desk needs to feel inviting and clean.

Excessive clutter doesn't demonstrate organizational efficiency or lend itself to an improved client experience. This is why the reception desk is often the focal point of office remodeling projects. Consider your storage needs and solutions as well.

Make Sure You Have Adequate Storage

This will allow your receptionist(s) to tuck away documents, deliveries, supplies, and any other clutter-causing items.

Most likely, you'll also require an elevated front to your desk to conceal confidential client documents and information.

Finish is yet another essential consideration.

Frequently, your space and budget are the limiting factors in this decision. Once you've taken inventory of your needs and budget, you'll be able to select a desk.

Consider longevity and durability.

You'll need to choose wisely and make sure that your selections fit into your overall décor and design goals.  Durability and longevity are also considerations.  Of the various materials on the market, wood grain laminate wears hard. Other pricier options that utilize real wood and solid building materials last longer. Sometimes it's smarter to invest in better quality, reusable pieces of furniture and decor.

Other finishing touches like steel, plexiglass, glass etc. will up the cost of your build.

As always, be sure to take into consideration all of your measurements before you consider these added finishing touches. You'll also want to communicate with your project manager in terms of what's feasible.

Provide Stylish, Comfortable, and Supportive Seating

Waiting room chairs are the second most important consideration when designing a waiting room.

Your medical or dental office space needs to comfortably accommodate your visitors. It also needs to look professional and attractive. To make sure your space is functional and attractive evaluate your measurements and budget.

When measuring waiting room furniture make sure it fits in your space.

Also consider potential occupancy on your busiest day. You'll want to accommodate other pieces of furniture like tables into your office reception areas as well. Your general contractor should walk you through how to design your waiting room with an interior designer and make sure that all of your needs are met, while also ensuring that guests are accommodated accordingly.

Seating patterns, colors and textures are all secondary, but important considerations.

Your budget can significantly influence your decision making in this stage.

Finally, factor in an adequate amount of lead time.

Your project manager will help to manage your expectations in this realm, but be aware of overall feasibility.

Greet Clients with Friendly and Inviting Waiting Room Decór

Consider a color pallet filled with calming, neutral tones and shades for doctors offices.

These color selections are good at reducing patient anxiety. Your office waiting room is then more likely to reaffirm calm and serenity to your clients. These color selections also dictate furniture selections, fixtures choices and other aesthetic elements. Each contributes to a unified image that impacts how your visitors feel when they spend time in your office.

Order fabric samples if you are unsure about what colors will work best.

Some contractors and designers will have color and fabric swatches on-hand during the design phase. At Stryker, we maintain a record of all of the material selections that went into your project. This helps us maintain consistency should you need replacement material.

It is important to consult with your project manager and designer throughout the design process.

You want to make sure that everyone is on the same page aesthetically – this will prevent surprises.

Make your space memorable with unique pieces of furniture or decor.

You can set yourself apart from other healthcare design offices through tasteful selection. Pieces of art are one way to do this. Installing an aquarium full of exotic fish is another. While these features will up the cost of your medical or dental office build out, they may also be tactical investments that improve your clients' experience.

Select Appropriate Lighting

Adjusting the lighting in your waiting area enhances your visitors' comfort.

Your lighting selections will also stem from your choice in lighting fixtures. Know that in some cases certain fixtures require specialized wiring and installation. Your interior designer and builder can navigate you through selecting fixtures and communicate what options are more feasible and cost friendly than others.

Natural and low, warm light, creates a comfortable and  friendly atmosphere.

Artificial light is harsh. Depending on your needs you may want to steer clear of fluorescent lighting in your reception area. Natural light is also a solution for cutting down on power consumption. It also makes a space feel more open. Based on your space and needs, consider using natural light.

Utilize Visual Tricks, Like Mirrors to Make Your Small Space Look Larger.

Consider Your Technology Needs

Consider using a TV screen to display messages or other health care announcements while your clients wait.

This is a great time to deliver messaging about yourself or additional services. You  may also want to consider specifying additional outlets for your guests to charge their various devices. Like free Wi-Fi, this a great added benefit that you can use to improve your client's overall experience.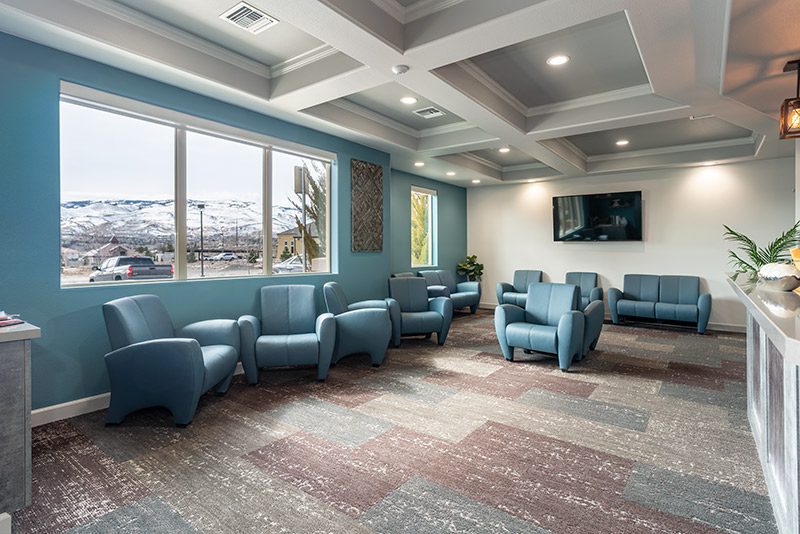 Get Design Expertise When You Work with A Premier Reno Construction Company
If you're considering using a tenant improvement allowance to remodel your dental office, medical office, warehouse, retail or any other commercial office space let us know. At the very least, we can lend you some extra information and educate you further on how to design a waiting room. If you're interested in learning how to design a waiting room for medical and dental office purposes, we are a proud Northern Nevada commercial remodeling contractor and community partner! Connect with Stryker Construction today for your office build out and design needs.
Learn How to Design a Waiting Room