Nevada's commercial landscape has grown significantly in the past ten years or so, mostly due to the influx of industrial companies and businesses flocking to the area. In 2011, the state decided to take a more active role in the overall economic development occurring in Nevada. This led many large industrial corporations like Tesla to move into the local commercial real estate scene.
Recently, there has been a noticeable shift in the market with several smaller organizations becoming more present. This change has resulted in the need for commercial build-out contractors to turn large existing distribution structures into fully-functioning office or retail space for smaller businesses.
To learn more about the market shift and how construction companies in Reno, like Stryker Construction, are accommodating business owners' needs, read below!
Office Market Analysis of the Reno-Sparks Area
According to Colliers' third-quarter report of the Reno office market for 2021, the area saw a tremendous increase in leasing activity. The increase rang in at 39,719 square feet of positive net absorption, the highest the market has experienced in five quarters.
This increase can be attributed to multiple factors including staff returning to work in the office, new businesses focusing on expansion and the addition of available job opportunities. Since quarantine restrictions have been lifted, the Reno-Sparks region has added over 8,200 job positions with 1,500 jobs added year-to-date.
The sudden burst of activity has led many Reno companies to make long-term decisions regarding their real estate options in order to stay competitive. The demand for commercial development means that vacancy rates are on track to decline, leading more businesses to make renovations and updates to existing buildings known as commercial tenant construction.
Currently, there is a growing need to fill smaller tenant spaces over large industrial facilities. However, with Reno implementing its economic development strategies through these large facilities, there is a lack of available traditional office space. Fortunately, with the help of commercial build-out contractors, you can turn just about any working environment into your ideal workspace.
Absorption Rates Climb, Making Commercial Build-Outs Essential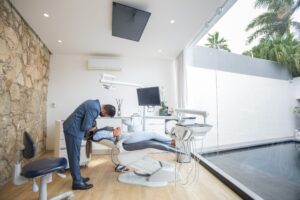 Absorption of the commercial real estate market tells brokers all they need to know about the current tenant demand. With new, smaller companies moving into the Reno-Sparks area, absorption rates have continued to grow and building resources are becoming more stagnant. This has resulted in the need for commercial tenant construction and build-out projects.
Reno commercial real estate brokers have also noticed more absorption by existing tenants looking to expand their office space as well as new business owners seeking unique locations to open up shop. Rather than developing a new building, the large industrial facilities that currently exist are being transformed into retail spaces, restaurants, and offices for dentists, optometrists, and other medical professionals.
With the amount of industrial commercial property available in the area, brokers are finding that smaller businesses are seeking lease agreements that allow their business to occupy just a portion of an industrial-sized building. This leaves room for other businesses to rent out the remaining space which provides a solution to the lack of available commercial space on the market.
Commercial Build-Out Contractors Weigh-In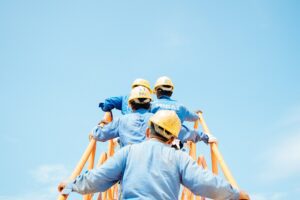 While many business owners look to occupy a commercial space that is already set up and prepared for their business needs, this isn't as accessible as it needs to be. To accommodate the market changes, construction companies in Reno have taken on a number of tenant improvement projects.
According to Todd McKenzie of McKenzie Properties Management, Inc., there is a demand for utilizing large spaces of open real estate for smaller organizations. The goal here is to subdivide these 120,000+ square feet buildings into layouts that allow 10,000 – 50,000 square feet of usable space per tenant.
Commercial build-out contractors are in high demand in the Reno area. Their ability to transform an existing establishment into a fully-functional workspace for a completely different industry is incredible. Stryker Construction specializes in building out existing commercial properties for a variety of businesses including dental and medical offices.
With the limited amount of resources to begin completely new construction projects, tenant improvements and commercial build-outs are our number one priority.
Plan Your Commercial Tenant Construction Project with Stryker
We'll work closely with you to determine your tenant improvement needs and assess how we can best meet those needs. Following the assessment of your medical, dental, or office space we'll get to work remodeling or reconfiguring your existing commercial building space to become more functional and practical for you. We handle the entire project from start to finish including the design, the build and the inspection.
Tenant improvements, or commercial build-outs, provide many benefits to business owners that can help with the functionality of your office and can even improve your overall productivity and efficiency. Connect with our experienced commercial build-out contractors to see how tenant improvements can enhance your business and make any commercial location your ideal working space.